Young EUSAIR Communication Academy
Young EUSAIR Communication Academy
Submitted by manager on Thu, 07/04/2022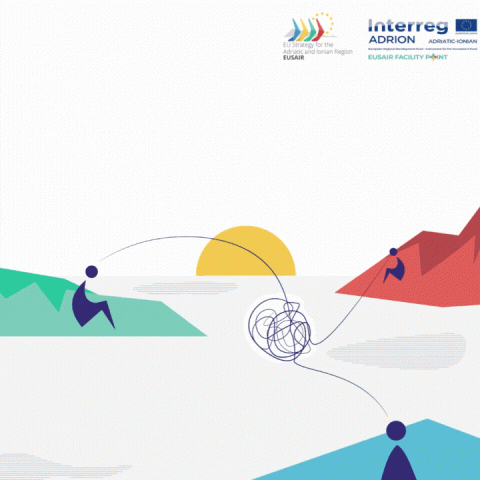 A 3-part communication capacity building programme for young people interested in the EU Strategy for the Adriatic and Ionian Region (EUSAIR) and macro-regional cooperation in general.
Young EUSAIR Communication Academy is a part of the EUSAIR Communication Academy organised by the EUSAIR Facility Point Lead Partner (Government Office for Development and European Cohesion Policy of the Republic of Slovenia) and Centre for European Perspective (CEP). Effective communication benefits every individual that exercises it. It helps convince others, raise awareness, and even influence behaviour. Learning about communication – its main principles as well as how to use different tools and acquiring new skills can help in this endeavour. This is one of the main goals of EUSAIR Communication Academy. Moreover, by facilitating the Academy, EUSAIR aims to build the foundation for further inclusion of young people.
By participating at the Academy the participants will get hands-on knowledge about communication, especially digital communication. Through the programme, they will also get in-depth knowledge about the role of EUSAIR and macro-regional cooperation in general.
The training programme is designed in an interactive, interconnected, and applicable way. It is composed of three interlinked parts that will take place in April, June and October 2022. While the first two will be held online, the last one will be organised in-person in Slovenia.
More information on the Academy is available in the introductory brochure here.
Participation is possible for youth participants (aged between 18 – 35) interested in EUSAIR and macro-regional cooperation. There is no participation fee. Costs of in-person participation (accommodation, food, and transportation) for selected participants will be covered by the organisers.
Registration is possible here. The applications close on 11th April 2022.
A promotional kit provided by EUSAIR on 07.04.2022